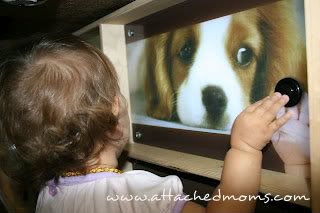 Enjoying CMOP at almost a year old. How time flies!
It is hot, sticky and playing inside may just be getting too much for you...
Consider the Children's Museum of Phoenix
! My kids LOVE CMOP Three floors to learn, explore and enjoy... and I will tell you've I've nursed my kids on each of them.
The Children's Museum is a very breastfeeding friendly location. Some moms want more privacy, or have a child who is easily distracted and so a quiet spot may be necessary to get a nursing session in.
A solution to needing a quiet spot to nurse at the Children's Museum is in order! CMOP wants to create Nursing "snug" spots and
needs your help
(Click the link to learn more.)
According to Marion Wiener, Director of Marketing and Communications for CMOP, said via email to AttachedMoms.com:
All women should breastfeed if they are willing and able. It is undoubtedly probably one of the top 5 best things you can do for your child! After loving, nurturing, caring and loving them some more! Plus, women should all have a private, comfortable space to breastfeed when they are in public spaces. And it would be the Museum's honor to be able to provide that for our breastfeeding visitors.
Even if you can't donate to this cause, consider passing along the information to others. Awareness and acceptance of breastfeeding helps us all.