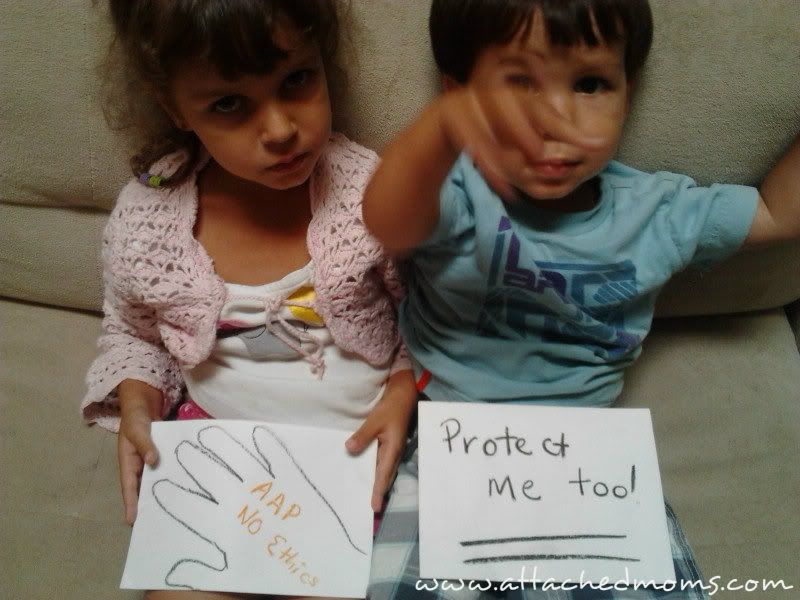 Tweet
What is a human's largest organ?
Skin.
The skin protects us.
Unfortunately, AAP no longer feels it is necessary to protect all young babies. Last year, they, for a brief time, wanted to no longer protect baby girls from genital mutilation, and the public was up in arms... but, as of today, they no longer protect baby boys from the same thing. With the support of the self-appointed "Task force on circumcision" which includes:
Susan Blank, MD, MPD, an infectious disease specialist with no expertise in pediatrics and a well documented religio-cultural bias in favor of male circumcision.
Andrew Freeman, MD, a pediatric urologist, who is reported to have circumcised his own son for religio-cultural reasons;
Douglas Diekema MD, who TWICE –both in 1996 and again in 2010,* — on behalf of the AAP, proposed a lucrative "ritual nick" to the genitals of female children, despite the existence of a U.S. federal law forbidding this practice
Steven Wegner, MD, JD, a doctor-lawyer, who serves on the AAP Committee on Health Care Financing, (whose sole focus is the income flow, over $1.25 billion, annually, —$2.25 billion or more if circumcision could be made mandatory). (Courtesy, Doctors Opposing Circumcision).
Sounds like a completely unbiased group of individuals, right?
Here's the thing - the foreskin is an important part of male anatomy. It isn't just extra skin! It is not a birth defect!
Circumcision has risks, and potential benefits - but that's POTENTIAL benefits.
DID YOU KNOW?
MOST BOYS DO NOT GET ANESTHESIA BEFORE BEING CUT. A 1998 survey of medical practitioners found only 45 percent use anesthesia.
THERE ARE LONG TERM ISSUES WITH CIRCUMCISION.
More than 100 boys die each year in the US due to circumcision.
We can just use neonatal foreskin cells for skin rejuvenation. Yep, those cells actually help women solve wrinkle problems! So the doc gets paid when they do the circumcision (cosmetic surgery) and then those same cells can be used to help save a
mom some wrinkles
!
This pain is remembered and affects bonding.
Circumcision has serious risks. These include infection, hemorrhage, scarring, shock penile disfigurement, penile amputation, and even occasional death."
The new AAP "position" or "technical report" doesn't include any of the
psychological issues associated
with circumcision.
Perhaps circumcision may be the reason we are hearing so much about
erectile dysfunction
now? Oh wait, would that mean more money? The jury is still out on that, right? But yes, many studies look at
circumcision
and ED.
Check out how circumcision will
increase HIV in Africa
.
IF YOU CAN'T WATCH IT HAPPEN TO YOUR SON, WHY THE HELL WOULD YOU DO IT.
FROM INTACT AMERICA
TAKE ACTION TODAY! Call the American Academy of Pediatrics to demand they retract its Techinical Report on the basis that it is inaccurate, biased and misleading, that it fails to address ethical and human rights issues, and that – as a result – more boys and men will suffer the pain of circumcision and the permanent damage it causes. Contact information for The American Academy of Pediatrics:
National Headquarters:
847/434-4000 (tel)
800/433-9016 (toll-free tel)
Washington, DC Office:
Department of Federal Affairs
202/347-8600 (tel)
Join on twitter - tweet #AAPNoEthics and let it be known that boys have rights to genital integrity!
AAP is now the only major medical organization in the WORLD that supports this
$2.5 billion dollar
business, I mean, procedure. A sad day in medical ethics for sure.
Support doctors who are against circumcision
.
From Intact America's 10 reasons not to
circumcise
your baby boy:
Because children should be protected from permanent bodily alteration inflicted on them without their consent in the name of culture, religion, profit, or parental preference.
His body, his choice.
AMPUTATE AN ARM TO PREVENT BROKEN LIMBS