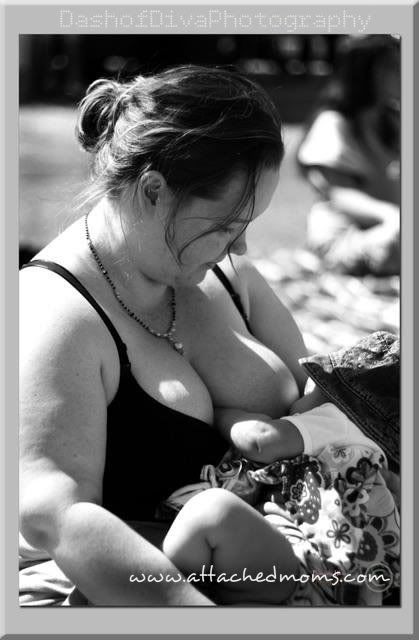 Taken at the 2008
World Breastfeeding Challenge
by Dash of Diva Photography
Is Enfamil as bad as Nestle for babies?
Perhaps not, but they also have their ways to market to pregnant women directly.
Mead Johnson & Company have plenty of other business to do, perhaps they can try to make gains in other areas of their company instead of through their products which affect the health of infants and children negatively.
After their negative publicity when babies died after consuming their formula late last year (to note they did indicate it was likely the water used to mix the formula, but the fact is breastmilk wouldn't have done that!), they're trying to get their name out there again and are using bloggers for giveaways. Not working here. In fact I won't go as far as be a "Mead Johnson-free home..." but I can't support bloggers who, like me, are mostly moms, being targeted by big companies to put forth their name and the mom bloggers get a few pennies for clicks perhaps, and the big companies get thousands of dollars in formula.
I think the attached photo was my first time nursing without a "full top" in public. I randomly came across this photo recently on my old Myspace page (gasp, yep, my login still worked!) and how fitting is it that this topic comes up on my blog? Okay, I guess it isn't that random at all...
As a reminder, the
World Health Organization's Code
for the Marketing of Breastmilk substitutes indicates:
5.2 Manufacturers and distributors should not provide, directly or indirectly, to
pregnant women, mothers or members of their families, samples of products within
the scope of this Code.

5.3 In conformity with paragraphs 1 and 2 of this Article, there should be no pointof-
sale advertising, giving of samples, or any other promotion device to induce sales
directly to the consumer at the retail level, such as special displays, discount coupons,
premiums, special sales, loss-leaders and tie-in sales, for products within the scope of
this Code. This provision should not restrict the establishment of pricing policies and
practices intended to provide products at lower prices on a long-term basis.

5.4 Manufacturers and distributors should not distribute to pregnant women or
mothers or infants and young children any gifts of articles or utensils which may
promote the use of breast-milk substitutes or bottle-feeding.

5.5 Marketing personnel, in their business capacity, should not seek direct or
indirect contact of any kind with pregnant women or with mothers of infants and
young children.
Of course most of us are bombarded with these in our OB's office (many midwives are more baby friendly) and then again at the hospital (another reason for low-risk women to consider home birth or at least a friendly birth center!) unless it is a hospital that is part of the "Baby Friendly Hospital Initiative"
So what is Enfamil up to? Giving away $250 worth of "goodies" to moms and moms-to-be.
Ya'll know I love a freebie... but not in this way.
Shame on Enfamil.
I'll be unfollowing all blogs sponsoring or posting about this giveaway and linking them to this post as to why. Here's an example. Love how this blogger writes, "WOW TALK ABOUT A HOT OFFER RIGHT NOW! ENFAMIL IS DOING IT AGAIN AND GIVING AWAY THEIR FAMOUS $250 ENFAMIL BAG
FILLED WITH
GOODIES! SO DO YOU KNOW SOMEONE THAT IS HAVING A BABY OR DO YOU NEED THE BABY GOODIES YOURSELF? ..."
FIRST HEAD ON OVER HERE TO SIGN UP
(I removed the link, obviously)
AFTER YOU SIGN UP LOOK FOR THIS POST
AND CHECK THE BOX
NOW YOU DO NOT HAVE TO CHECK ON ANY OTHER BOXES IF YOU DO NOT WANT THOSE OFFERS JUST KEEP GOING :)
SO YOU ASK WHAT DOES THIS KIT INCLUDE?
BOTTLE COOLER
FORMULA (MINE CAME WITH 4
FULL SIZE
FORMULAS
ALL DIFFERENT VARITIES)
A CLUTCH (TO ME IT LOOKS KIND OF LIKE A MAKE UP BAG BUT I THINK PEOPLE USE THEM FOR WIPES AND LITTLE BABY ITEMS)
AND SOME OTHER LITTLE GOODIES!!
Please miss out on this offer. How are women going to make their breastfeeding goals if we continue to undermine them? How are we going to save babies from illness when we only encourage fewer women to breastfeed? Sorry fellow blogger mommies, this is something I just cannot support.